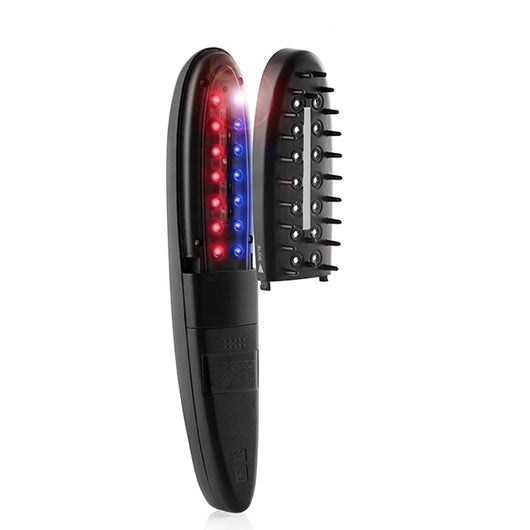 GrowthComb™ Anti Hair-loss Brush
Finally! A Proven, Non-invasive, Non-chemical Hair-loss Solution
The GrowthComb™ Anti Hair-loss Brush is a revolutionary hair-loss solution that combines LLLT technology, infrared light, and biostimulation. GrowthComb™ comes with a complete 12-piece hair loss kit, say hello to a healthy scalp again.
Low-level Laser Therapy (LLLT) has been clinically proven by the Food and Drug Administration for its safety and effectiveness (report by CBS News)
Use the GrowthComb™ Anti Hair-loss Brush on your scalp 2-3 times a week for maximum effect. There are no side-effects, no chemicals, and it's a non-invasive method to grow fuller, thicker, and healthier hair:
Restores healthy hair with LLLT
Suitable for both men and women
Convenient home treatment
Vibration mode helps boost circulation and increase blood flow
Increases follicle thickness and strength to give you a full head a healthy hair
No cables. Simply re-charge it, and use it anywhere at your own convenience.
Comes with:
GrowthComb™ Anti Hair-loss Brush
Manual
Shipping will take 2-4 weeks due to high demand.
Free Shipping Worldwide!
No Surprises at Checkout!
4 Great Reasons To Buy From Us: