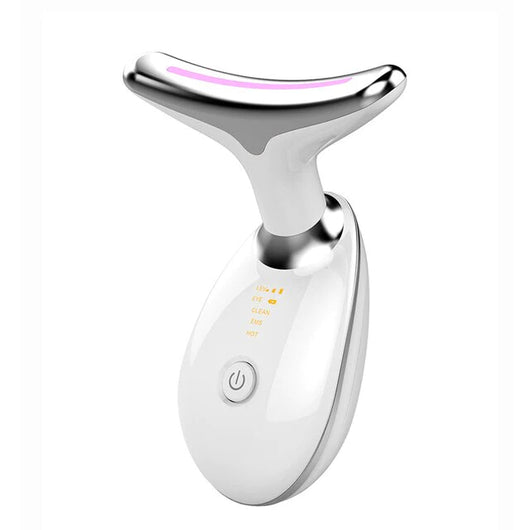 SculptV6™ - Lifting & Tightening LED Device
Non-invasive Puffiness Reduction & Sculpting
Give your face a more sculpted and radiant appearance with the help of the SculptV6™. 
This innovative non-surgical device uses a clever combination of smart vibration, magnetic heat, and LED technology to provide you with noticeable lifting and tightening results without going under the knife.
By helping to break up and release toxins that cause puffiness and fluid retention, it helps to ward off infection and reduce swelling in the face tissue to give you that sculpted, tight, and radiant look.
Say hello to the new age of beauty. 
*LED light therapy was first developed by NASA and proven effective to treat skin conditions.
Benefits:
Sculpts, tightens, and lifts jawline + cheeks
Helps with lines & wrinkles
Increases skin elasticity
Cost effective alternative to professional treatments
The device's massage head has a micro-arc line that is specially designed for the face, shoulder, and neck, and comes equipped with 3 modes that each provide amazing benefits:
First Gear (Blue) Mode - Low Frequency Vibration + Blue Light Therapy improves your skin's firmness and removes muscle fatigue by relaxing the muscles. It enhances your skin's elasticity, leaving you with a natural, rejuvenated glow.
Second Gear (Violet) Mode - Medium frequency Vibration + Magnetic Heat Therapy + Violet Light Therapy promotes collagen production & has skin calming benefits.
Third Gear (Red) Mode - High Frequency Vibration + Magnetic Heat + Red Light Therapy rejuvenates skin by increasing blood circulation, relaxing and soothing strained muscles, and promoting skin absorption. It strengthens the skin's natural collagen, and helps with fine lines and wrinkles. This mode is ideal for reducing wrinkles.
The SculptV6™ is a pain-free home-based solution that is 100% safe to use, hypoallergenic and has absolutely no side effects, unlike oral medications or harsh laser treatments. 
Recommended usage time is 10 minutes a day - 5 minutes in the morning and 5 minutes in the evening at the end of your skincare routine. 
Comes with:
1 x SculptV6™ Device
1 x Manual
1 x USB Charging Cable
Free Shipping Worldwide
Due to overwhelming demand, please allow 3-4 weeks for delivery